Clinic & T-Girl Party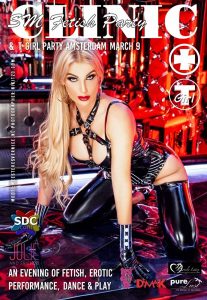 Dit zegt T-Girlparty Amsterdam over hun evenement:
The return of the Clinic Party, famous for being one of the best Kinkiest and Fetish Party's since 1999, is a fact.
The T-Girl Party Amsterdam, famous for it's extravagant visitors, is now part of the Clinic as well.
Dance, flirt, have fun while we provoke you with sexy Drag, Fetish, Kinky & Pervy entertainment. International (porn) T-Girl performers, will be there to thrill your kinky fantasies. Let's all have a good party, let's all be playful, let's have a good time, alone or with your partner. Bring your toys and check out the dungeons. Let your fantasy rule and enter the erotic theatre of your own mind!
Partytickets aanvragen? mail naar partytickets@ontopoflove.nl
Openingstijden van onze winkel.
Lets meet in de winkel!
Waar wij je warm onthalen met koffie, inspiratie, "jouw-tijd" en een enorme voorraad slaapkamertoys, lingerie, fetish kleding, BDSM-gear en schoenen om direct mee te nemen.